Eggs: go the extra mile with audience research
Just as protein in eggs (or an egg substitute) binds ingredients together, providing strength and stability, knowing your audience strengthens your content and stabilizes your users' journey, guiding them to make a purchase. Without a binding agent, a cake will fall apart. If you're writing for the wrong audience, your user-first content strategy will also fall apart.
You can't know exactly what your audience wants unless you know who your audience is. Let's take a look at Google's predictive search for running shoes.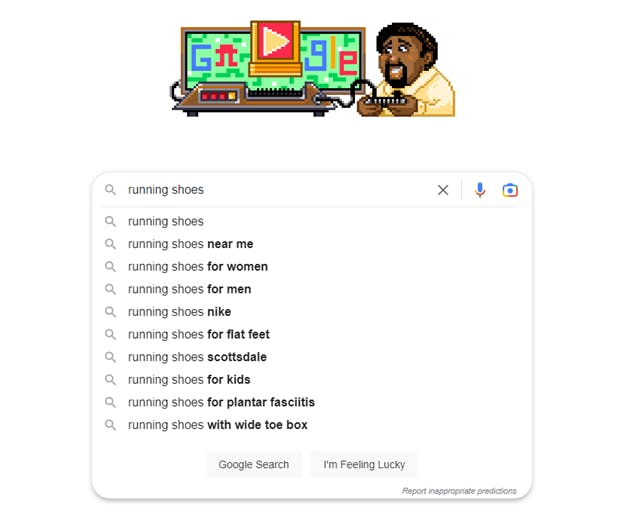 As you saw above, searching for running shoes brings a variety of very different options; your SERP could be filled with running shoes for women, for men, for kids, for wide feet and so on. This is why it's crucial to know who your audience is before you can truly answer their pain points and satisfy their intent.
On top of that, you also need to know what stage of the sales funnel they are in. In other words, you need to know if they're looking for a quick answer (top of the funnel), if they're looking to research options available to them (middle of the funnel) or if they're looking to make a purchase (bottom of the funnel).
Understanding who your audience is and where they are in the sales funnel will help you outline the journey you want to create in your content. For example, if a user is researching their options, you may create the following outline:
Introduce the shoe
Answer pain points and introduce benefits
Compare this shoe with another popular one on the market
Include real testimonials or videos about the running shoe's performance
Offer a discount code if the user enters their email
Reiterate why this shoe is everything they could need by circling back to pain points and benefits
This outline won't only answer user intent but also entice the users to make a purchase at the right time. Showing them a discount or pop-up coupon too early may cause them to click away because it signals to the user, "This page is designed for you to spend money." This outline instead naturally leads them through the sales funnel by answering their questions – thus satisfying their intent – and then offering them the next step of buying the shoe at a discounted rate.